Medical Face and Eye Protection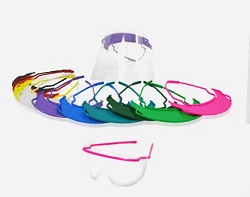 Laboratory and Medical Eyewear
Essential eye protection and PPE equipment that offer protection from harmful and hazardous splashes.
The range include medical full face visors that e
ffectively prevent droplets from splashing into the nasal cavity.
Our face shield extend below the chin anteriorly, to the ears laterally, and there no exposed gap between the forehead and the shield's headpiece.
The face shields can be reused indefinitely and are easily cleaned with soap and water, or common household disinfectants.
They are comfortable to wear, protect the portals of viral entry, and reduce the potential for autoinoculation by preventing the wearer from touching their face.
The range also include visitor safety glasses with hard coated lenses that are scratch resistant , safety glasses for medical and dental professionals., protective eyeshields and chemical splash resistant safety goggles
The eye-visors,shields and face-visors that offer unbreakable protection for your eyes with premium optical quality

We also offer a full view face visor system with a wraparound design provides both front and side eye protection that is suitable for medical, lab, dental and emergency medical healthcare workers.