Compression Tights and Socks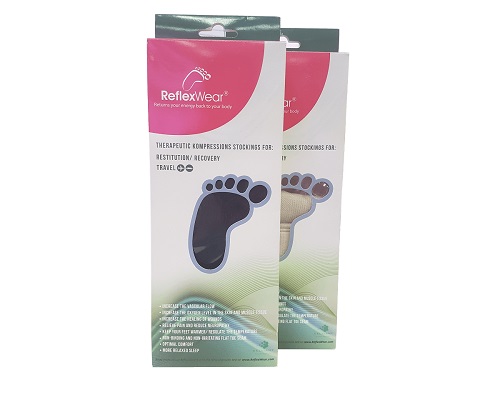 Compression tights and socks
Compression stockings for everyday and hospital use.
Compression stockings help prevent the occurrence of, and guard against further progression of, venous disorders such as edema, phlebitis, varicose veins and thrombosis.
The stockings are specially designed to apply pressure to your lower legs, helping to maintain blood flow and reduce discomfort and swelling.
They may be prescribed by your GP if you have a condition that causes poor blood flow in your legs, such as varicose veins and lymphoedema
Compression stockings come in a variety of sizes, lengths and colours. They're also available with different strengths of compressio
British standard for class of compression:
Class 1 stockings (light compression) exert an ankle pressure of 14–17 mmHg.
Class 2 stockings (medium compression) exert an ankle pressure of 18–24 mmHg.
Class 3 stockings (high compression) exert an ankle pressure of 25–35 mmHg.
Wearing compression stockings is one way of reducing your risk of developing DVT.
The range include Reflexwear compression and travel socks that are knitted using thin and ultra-soft Celliant yarn .
Celliant yarn has also been clinically proven to relieve pain, promote quicker healing of wounds, improve sleep quality, heighten athletic performance and help to regulate body temperature by increasing oxygen levels in the body.
This model is also designed to be perfectly suited to people with diabetes.
REFLEXWEAR is registered as a medical device according to 93/42/EEC
Please note compression garments should not be worn in the case of circulation disorders in leg arteries or for those with serious heart conditions. Caution is also recommended in the case of sensory impairments due to diabetes and neuropathy
You should wear your compression stockings during the day and take them off before going to bed.
We offer a further line of compression tights and socks on omegahealthcareshop-link below