Surgical Instruments - Over 6500 Products in 31 Categories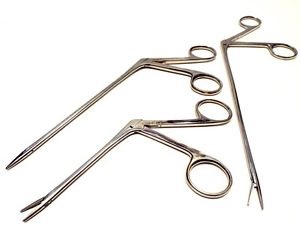 Our entire range of surgical instruments are manufactured using Japanese steel. All instruments are also guaranteed to be free from material and manufacturing defects.
All Surgical Instruments are accredited to ISO 9001:2000 and are CE marked in accordance with the Medical Devices Directive. All Surgical Instruments are also cGMP (FDA) Certified.
Our surgical instruments are compatible and will not affect the sterility of the instruments being processed on the UK standard parameters as below.
Washer - 90 Deg Temp - 1 minute exposure time
Steriliser - 134 - 137 deg temp - 3 - 3.5 minutes exposure time.
---
The range of surgical instruments available on our website have been divided into the following categories:
Diagnostics, Artery Forceps, Bone Surgery, Otology, Cardiovascular Surgery, Dermatology, Dressing Forceps, Forceps, Gall Bladder, Gynecology, Intestinal and Stomach, Lung Surgery, Obstetrics, Ophthalmology, Neurosurgery, Oral Instruments, Retractors, Probes, Tracheotomy, Rectum, Rhinology, Scalpels, Scissors, Sterilisation, TC Suture, Asepsis, Vaccination and Puncture.
Please contact our customer services team if you are unable to find the product you are looking for.